Explore the Idea
It was 8 years ago when Norman de Vos, founder of MonkeyGo®, flew back from Asia to Amsterdam with his daughter, only two years old at the time, when they experienced an unfortunate accident. During the flight, while she was sleeping accross the laps of her parents, she fell from the chair and hit hear head badly on the metal frame of the chair in front of them. That fall resulted in a serious head injury from which she has since completely recovered. However, that shocking accident was the moment when, as parents, they decided to think about something to make flying more pleasant and more comfortable for both children and parents. This resulted in the idea of a fully inflatable, comfortable and secure airplane seat. The MonkeyGo was born!
Norman's youngest son, Dylan, now 3 years old, has been the ideal quality control tester as he is a regular flier who has already travelled 18 times between Europe and Asia, each time in his own MonkeyGo chair. From his personal inflight experience, the design of the chair has been adjusted and modified various of times to ensure that the final product has the right shape and form for children from 1 to 5 years old. It is practical to use but most of all it is super comfortable!
The MonkeyGo gives the child complete body and head support on each side, and it creates stability for the child's seating position. It is very easy to inflate and deflate, and it is packed into its own small nylon bag so it can be easily stowed away in carry on luggage. Additionally, a unique MonkeyGo Back-Pack is currently being developped and will be soon be available for purchase. This way the child can carry the seat into the plane by carrying his or her own MonkeyGo back-pack. How fun is that?!
The MonkeyGo is clasiffied as a comfort product and can be used during the flight as well as during take-off and landing. The MonkeyGo is designed to be a comfort product, and has no safety features by means of any restrain harness or straps. It is not classified as a CRS. The child can simply be fastened using the normal airplane seatbelt. The MonkeyGo is made of a fibre coated pvc, similar to the product used for the inflatable neck-rests.
With the child well seated and secure, it can offer parents a peace of mind during the flight. They can easily have their own diner, or feel safe to go the toilet when their child is securely fastened and sleeping. A welcome additional bonus is that the top side of the seat also functions perfectly as a soft cushion whilst sleeping next to the child.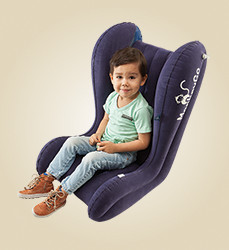 With the child well seated and secure, it can offer parents a peace of mind during the flight.